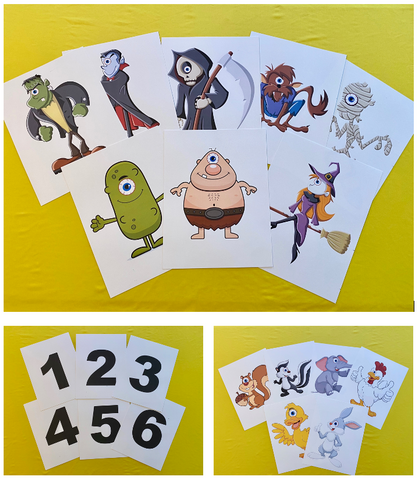 Cyclops Imposter

Demo Performance



By Barry Mitchell & Steve Petra
Come and listen to a story 'bout a clops named Sid
Funny looking feller who was living off the grid.
Then one day he bought a lotto ticket.
Becoming the big winner put him in a sticky wicket.
Lottery that is, Power EYE ball.

Well, the first thing you know old Sid's a millionaire.
Kin folk said: "Sid, come on over here"
They said: "Next to you is where we want to be"
Spending all your money like a deadbeat family.
Poor Sid. Everybody wants to be like you.
Six numbered picture cards are displayed. One is Sid the Cyclops, and the rest are imposters. Sid won the lottery, and they each want a piece. As you play a game of Cyclops Peek a Boo, you and an audience helper eliminate picture cards one by one. As long as all the imposters are removed before finding Sid, the audience helper wins Sid's lucky eyeball, or any prize you wish to give. If Sid is found early, the helper loses an eye. (The lucky eye, of course!)
This is a fun game of magical elimination. The DOWNLOAD includes all art for monsters and animal characters for a fun DIY effect. Great routine for Halloween or any time of the year with the animal cyclops characters. Comes with instructions for a change bag force or PATEO option. Change bag and eyeballs not included. Instructional video PASSWORD comes with download. Ad copy by Sherry Grant, the Professor of Parody.

Explanation Video. PASSWORD comes with product download.



---
We Also Recommend