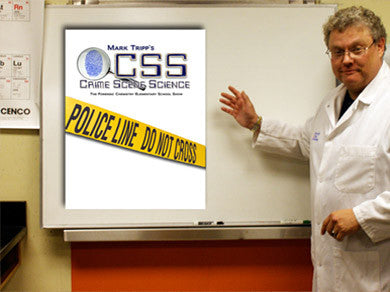 Mark Tripp's CSS Show
Crime Scene Science
The Forensic Chemistry Elementary School Show
This professionally proven educational school assembly program has the potential to change your future for the better! We can say that with confidence knowing this is not another magic show with a themed façade as is often being offered to schools. This program can help establish you as an educator, not just another entertainer. School administrators in today's economy tend not to spend their resources on "entertainment." They want every minute of the class day to be educationally significant. Mark Tripp's CSS program will give you the competitive edge. Clowns, magicians, puppet shows, plays, and field trips are overlooked for real learning experiences.
This program is both educational and ENTERTAINING! The science examples explained are MAGICAL in the eyes of the students. Because it is a real science program there are no expensive illusions to purchase; just easy magic principles and simple props. You will never find such a complete program with such a low start-up investment!
You receive:
Lifetime rights for the purchaser only to perform this show anywhere in the U.S.*
Options to buy other science shows at a 0 discount so you can offer a new show each year.
A DVD of the complete show plus a complete show with Mark's voiceover notes and tips.
Full script and additional materials.
Music suggestions.
Mark's personal Q&A assistance via email.
A network of all show owners for sharing ideas and friendly competition.
Recommendations of professionals in graphic design, photography, video editing, and music to help you improve your shows.
*We cannot police agreements for one performer to own a specific region of the nation but we are planning to create a networking team and special website to share ideas and marketing tips.
THERE MUST BE A CATCH!
If this program is as wonderful as you say it is, how can we offer it for such a low price?
Simple: this is just the beginning. We believe you will love the program and be anxious for more. Mark already has other performance-tested programs ready for release soon. We are absolutely confident when you do the work to learn and market this program, you will be so successful you will purchase new programs as they are released.
We believe there is room in the marketplace for more than four or five performers to own regional performance rights so we don't have to make our money from only a few.
We believe in this project and want to see it USED! Other school programs are available in the price range of 0 to thousands of dollars. And those shows often limit the performer to only one year to perform. Our program may be performed for a lifetime for only $499.
---
We Also Recommend