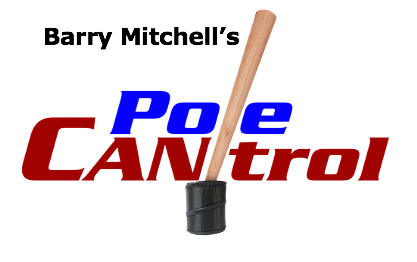 Pole CANtrol
See our NEW Barry Mitchell Appearing Poles. CLICK HERE



Show a small pop-up can. Compress to show it's empty. Snap your finger so the magic will happen. You usually wave a wand, but your wand is missing. Wait, there it is! It just appeared in the small can. Pull out an 8-foot magic wand or pole or candy cane or straw! Pole CANtrol is a clever base that fits inside the pop up can to easily hold our exclusive Pole Control gimmick. When you see how clever this prop is made, you'll be saying, "Why didn't I think of that?"

Comes with pop-up can and special base. Appearing poles and Pole Control sold separately. 
See Original Pole Control CLICK HERE
See Appearing Poles CLICK HERE
See our NEW Barry Mitchell Appearing Poles CLICK HERE

Professor Baer's Bucket Fisherman
Fun idea using Pole CANtrol, an appearing wood pole and a small selection of sponge items. Inspired by Don Baer.





Pole CANtrol Explanation
PASSWORD comes with product
---
We Also Recommend